READ THE LEAD TIMES BELOW BEFORE PURCHASING
Current leg gaiter build is for Christmas delivery. Any future leg gaiter builds may not be delivered prior to Christmas. SELECT UPS NEXT DAY AIR, 2 DAY, OR 3 DAY during checkout. UPS prioritizes these shipments over Ground during the holidays. UPS Ground and USPS services have extended ship times during the Christmas season. 
DESCRIPTION: If you are looking for gaiters that can take extreme abuse...you have come to the right place. Overbuilt is an understatement. We use a 1000D Cordura Nylon and a 400D Packcloth layering system, which stops water in its tracks (we have done tests...lots of tests). Rubber and Leather for the under boot strap will not last. We utilize a USA Made Steel underwire with a rubber coating, which helps mitigate any substantial rubbing to the bottom of your boot. The leg gaiters feature a #10 YKK zipper and hook and loop Velcro closure, which is located in the back of the leg gaiters. This is to prevent debris and moisture from entering the opening and closure of the gaiter as you walk. Additionally, you have the option to tighten the top portion of the gaiter via elastic, hook, and loop. This is to maximize comfort and prevent moisture and debris from entering at the top. A G hook in the front of the gaiter can be used to hook the front to your shoe lace. 
SIZES:  
Mid Calf (13" tall) and Knee High (17" tall) are available.
**MEASURE YOUR CALF WITH BOOTS AND PANTS ON FOR ACCURATE FITMENT**
Large- 14"- 18" Calf Size 
XL- 19" - 22" Calf Size 
Weight: 1.3 pounds 
PRODUCT MATERIAL SPECIFICATIONS:
Made in USA 1000D Cordura
Made in USA 400D Packcloth
Made in USA Cordura Nylon Webbing
Made in USA #10 YKK Zipper 
Made in USA Hook and Loop Velcro 
Made in USA Nylon Elastic 
Made in USA Metal 1" D Rings 
Made in USA Steel Wire
Made in USA G Hooks 
Made in USA Snap Hook 
Made in USA 1" Grosgrain Binding
Made in USA #69 Nylon Thread
*Remember to seam seal and treat your gaiters with DWR frequently to maintain the fabrics highly water resistant properties

Customer Reviews
Write a Review
Ask a Question
09/07/2022
Lee D.

United States
Indestructible
These are built to be the last pair of gators you will ever buy. Fit and finish is spot on. Have a few trips in with some hard use no snags, wear or scars. Snow season is coming up and I'm looking forward to many miles in them.
08/18/2022
Greg R.

Australia
Bullet proof Leg gaiters
These gaiters look bullet proof although that will only be confirmed years down the track. Gave 4 stars instead of 5 as I'm not sure how silent they will be in brush. I'm in Australia and we wear gaiters for snake protection, these gaiters score 110% on that criteria.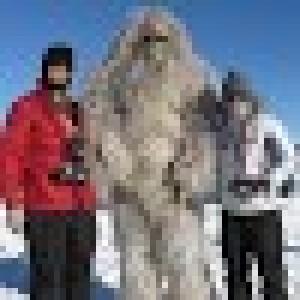 ML
07/11/2022
Michele L.

United States
Great construction w some issues
Extremely well made precision craftsmanship and top notch materials. But I found them to be too large to fit my hiking boots (11, 11.5 and 12 Scarpa and Lowa boots) couldn't get a close fit around the boots and the wire hung at least 1 cm below the treads so had to return them. Also the sturdy cord it's fabric is extremely hot (and double walled) so these would have been too hot for me in 3 seasons and maybe even in winter. Don't want sweaty wet socks freezing up. So not really made for movement imo, better for standing or sitting still like in a hide or something. But rugged as all hell I'm sure. Also buyer beware: I found the return policy somewhat deceptive. While you may have 30 days to decide on a return, once you submit a request they only allow you 5 days to actually return the item or you'll get denied and charged for return shipping AGAIN. I found this extremely difficult as I had work during postal hours and literally had to take the day off work just to return them and this policy is not clearly stated anywhere in the website when purchasing. Seems quite deceptive to me and makes me probably not willing to take the risk in ordering any other T&K products for fear of being stuck if I can't get to the post office in 5 days. That should either be much more explicitly stated up front or changed. But can't fault the quality of the product, it's well made and looks beautiful, just didn't work for me.
07/12/2022
T & K Hunting Gear
Hey Michele. This is the first time we have heard of an issue with the fit around the boot. The wire can be double wrapped around the opposite d ring of the black snap hook to take out slack. We go over this in the video. Im not sure why you were having trouble, but I apologize if you were not pleased. We advise folks to send items back right away because we have accepted returns and folks have waited several months to send them back. We are not a deceptive company. That statement couldn't be further from the truth. We take pride in being a company of value and morals and would never not work with someone regarding a policy we have.
07/10/2022
Cody K.

United States
Best there is
Amazingly built gaiters and extremely easy to use!
07/04/2022
Will F.

United States
Great stuff
Built very very sturdy. I'll have a hard time wearing these out. Highly recommend.
06/10/2022
Vincent L.

United States
Bomb proof!
I haven't used them yet as its June here but what I can say is these things are worth the extra $$$. First of all, they're USA made and sourced, they are built like a tank and honestly it appears that these will last virtually forever. I also have a pair of Kenetrek knee high and I paid %70 for them and compared to those, I shouldn't have paid $25 for the Kenetreks!!! The most disappointing about the Kenetrek's...... you're paying almost $75 for them with a GovX discount and they aren't worth it. I will never buy gaiters from anyone else.